Sign Language - Year 3 (November 2012)
Tessa's Notes
Welcome to our Sign Language Unit Newsletter. Here's a chance to find out more about:
what your child is learning in class
questions to ask them so they can show you
some fun activities for you and your family at home
We're wrapping up our Communication Carnival quarter, with this final unit in Sign Language. While we teach sign language in every monthly unit, this month we sign the alphabet and learn even more signs. We teach sign language not only because it's a valuable means of communication with those hard of hearing, but it also teaches the kids fine motor skills, and the value of visual non-verbal communication. We're learning about going to school on the school bus, learning to "Dance It!", always a family favorite and the title track from our award-winning CD, and we're going to sign our ABCs. Now it's asking a lot for the kids to remember all 26 letters in sign language but, as always in Dancercise, we encourage them to do their best! This month we're continuing our practice of providing you with playable music that you can play from home. These songs will play on an iPad or iPhone, so if you are lucky enough to have one of those devices in your living room, you might find it more convenient than going to your computer. If you like these songs enough to buy them, you can acquire them from our
online store.
You can also find Tessa's CDs available from at the links below.
On behalf of everyone here at Dancercise Kids, we appreciate your business, and thank you for being part of our ever-expanding global family! Heart & Star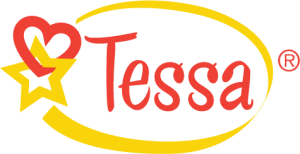 Dance Detail
Sign Language is the theme of our November Unit of our Communication Carnival Quarter. As you might have noticed, we incorporate Sign Language into virtually every lesson in Dancercise, but this month we pack even more in. As always, we'll keep it fun for the kids and they'll never realize quite how much they're learning!
Muscle of the Month: Neck
Activity
Song Name
Music
Steps
Sign Language
Lesson
Fitness
"School Time Strut"
Turkey neck, Head Rolls, Paint Circles with Nose, Nod Up and Down
Book, Bus
Waiting for the school bus can be a lot of fun, and anticipating the day we'll be on it!/td>
Jazz
"Belly Button"
Silly Kick, 3 Step Turn
Tummy
Belly Button is such a silly name! Let's wiggle and shimmy our little tummy.
Ballet
"Things I Love"
Ronde de Jambe, Bourree Turn
Love
Take time for the simple things in life and remember to say, "I love you".
Tap
"Dance It!"
Boogie, Wave Arms, Twist
Copy
Dancing is fun to do anywhere, anytime either with friends or just you, and the title track of our CD brings you along for the ride!
Creative Movements
"Let's Sign The ABCs"
Working together as a team, we make a great marching band
Using American Sign Language, we learn to sign the entire alphabet. This is a wonderful fine motor exercise for our little fingers.
Tumbling
Crab Walk
 
Parent Questions
Ask your child these questions and let them show you what they've been learning!
Can you do the Silly Kick?
Can you sign Flowers?
Can you show me a Hip Roll?
Show me how to do the Crab Walk
They might not remember everything but watch their imaginations go to town!
Family Fun
A good exercise to do is to practice a few words and phrases of sign language at home. You can find many resources online that can show you how to do basic sign language, and your child should be able to show you a couple of things they've learned in class.